CNN
—

Israel said its military launched a "targeted" operation against Hamas early Wednesday morning inside Gaza's main hospital, where thousands of Palestinians are believed to be sheltering.
Conditions at Al-Shifa hospital, which has run out of fuel and is no longer considered operational, have deteriorated rapidly in recent days amid intense fighting, with doctors warning of a "catastrophic" situation for patients, staff and displaced people. that are still inside. Wednesday's raid sparked international criticism.
In a statement posted online, the Israel Defense Forces (IDF) said it had begun "a precise and targeted operation against Hamas in a specific area of ​​Shifa Hospital."
Khader Al-Za'anoun, a reporter for the Palestinian news agency Wafa, described scenes of fierce fighting to CNN.
"Explosions shake the buildings of Al-Shifa Hospital … which is besieged from all four directions after the firing of rocket and artillery shells near the hospital," he said in a text message.
Al Za'anoun said Israeli forces had "invaded the hospital with a large number of soldiers and military vehicles, including tanks, armored vehicles, troop vehicles and bulldozers," adding that they prevented anyone from leaving.
A senior Israeli defense official, speaking to reporters earlier on Wednesday, said Israeli soldiers were in the buildings "to conduct search and interrogation operations with the young men amidst intense and heavy gunfire inside the hospital." He added that the Israeli army is "calling the young men through megaphones to raise their hands, come out and surrender."
Hamas' government media office has since claimed that Al-Shifa is under the control of Israeli forces. "We hold the 'Israeli' occupation fully responsible for the lives and safety of medical personnel, the wounded, the sick, the premature and the displaced," it said in a statement.
However, IDF spokesman Daniel Haggard said later in his daily briefing on Wednesday that the military operation at the hospital was "still ongoing and will take time."
"It's a complicated area that still has a lot of people. We have to execute (it) at the right pace," he said.
Israel Radio said in a report earlier in the day that the army has so far found no sign of hostages inside the hospital.
But in a briefing delivered nearly 12 hours after the raid, a senior Israeli defense official said soldiers had uncovered weapons at the hospital, and the IDF later released a statement saying it had found an "operational command center" belonging to Hamas in one of the hospital's departments.
Hamas dismissed the claim as a "blatant lie and cheap propaganda."
CNN is trying to contact the hospital to speak with the doctors there, but phone calls are not going through.
Israel is under considerable international pressure to prove its claims of Hamas infiltration of the hospital, to justify some of its military decisions, which could otherwise constitute a possible serious violation of international humanitarian law.
There is no indication yet that troops have uncovered a multi-level tunnel structure with underground chambers of the kind illustrated in an animation presented by an army spokesman at a briefing nearly three weeks ago.
Israel accuses Hamas of using the large hospital complex for military purposes, which, it claimed in a statement Wednesday, "jeopardizes the hospital's protected status under international law."
Hamas and hospital officials have consistently denied Israel's claims that Hamas has built a command center under the hospital.
Hours before the raid, the White House and Pentagon said Hamas was storing weapons and operating a command center from the hospital.
The Pentagon said the United States has recently declassified intelligence that claims to show that Hamas and the Palestinian Islamic Jihad used hospitals – including Al-Shifa – as a "way to hide and support their military operations and hold hostages."
But John Kirby, a spokesman for the National Security Council, later said that Washington had not signed off on the specific operation around Al-Shifa Hospital, nor approved any of Israel's military plans. It was "not a focus" of US President Joe Biden's phone call Tuesday with Israeli Prime Minister Benjamin Netanyahu, Kirby said.
He reiterated that the United States believes that Israel should not target hospitals in Gaza from the air and that civilians should be protected from the crossfire.
Human rights bodies strongly condemned Israel's raid on Al-Shifa, as the World Health Organization and Palestinian health officials warned that they have lost communication with staff inside the hospital.
International pressure on the Israeli government has intensified in recent days amid reports of dire conditions in Gaza's other fuel-starved hospitals and severe shortages of food and water.
On Wednesday, the UN Security Council approved a resolution calling for "humanitarian pauses and corridors" in Gaza, in what amounted to a long-awaited diplomatic breakthrough after weeks of bitter negotiations. Twelve countries voted to approve the measure, while the US, UK and Russia abstained.
UN aid coordinator Martin Griffiths said he was "appalled by reports of military raids on the Al-Shifa hospital in Gaza."
"The protection of newborns, patients, medical staff and all civilians must override all other concerns. Hospitals are not battlefields," Griffiths said on the platform X, formerly known as Twitter.
Meanwhile, Ramallah-based Palestinian Health Minister Mai Al-Kaila said the Israeli military's "storming" of Al-Shifa was a "crime against humanity," while the Jordanian Foreign Ministry called it "a violation of international humanitarian efforts." law."
The IDF said in a statement on Wednesday that it had warned for weeks that Hamas' "continued military use of the Shifa hospital jeopardizes its protected status."
It said it had also notified the relevant authorities on Tuesday that all military activities at the hospital must stop within 12 hours.
But a doctor inside Al-Shifa told CNN they were given only 30 minutes' warning before the Israeli operation began.
"We were told to stay away from the windows and balconies. We can hear the armored vehicles, they are very close to the entrance to the complex," said Dr. Khaled Abu Samra.
Neonatal babies at Al-Shifa hospital are in "serious danger" as conditions worsen further, Gaza hospital director Zaqout said.
"In evacuating the hospital… we have said numerous times that there is no place to move 40 incubators outside the hospital," Zaqout said.
CNN could not independently confirm its assessment of the situation. But CNN previously reported on images released by Al-Shifa that showed newborn babies taken from failed incubators and wrapped in foil in a desperate attempt to keep them alive after oxygen supplies ran out.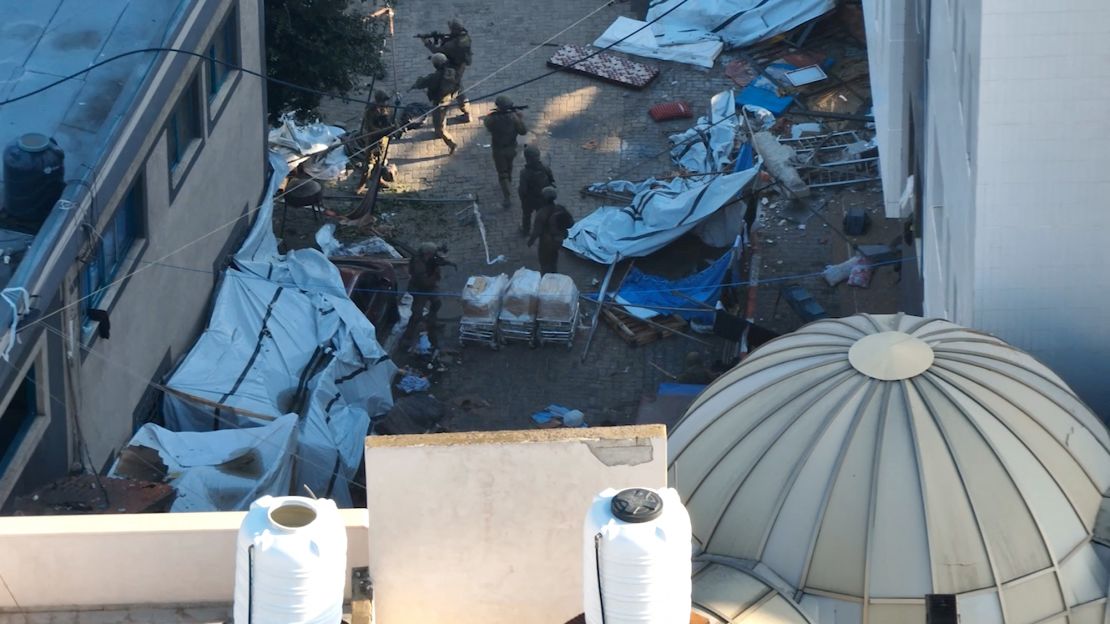 Hundreds of staff and patients are still inside Al-Shifa, according to the latest reports from the hospital, along with thousands more who have sought shelter from Israel's air and ground offensive.
The Israeli statement said: "The IDF is conducting a ground operation in Gaza to defeat Hamas and rescue our hostages. Israel is at war with Hamas, not with the civilians of Gaza."
A statement from Hamas blamed both Israel and the United States for the Israeli army's raid on the hospital. Backing what it called Israel's "false narrative" – ​​that Hamas was using Al-Shifa as a command and control base – it said the US had given Israel the "green light … to commit more massacres against civilians."
Israel declared war on Hamas, the Palestinian militant group that controls Gaza, and launched a "total siege" of the enclave after Hamas terror attacks in Israel on 7 October. An estimated 1,200 people were killed in the Hamas attack and around 240 were taken hostage, most of whom remain trapped in Gaza.
Since then, the Israeli response has killed at least 11,255 Palestinians – including 4,630 children – according to the Palestinian Ministry of Health in Ramallah, which draws on medical sources in Gaza.
'Screams from elderly people and cries from children'

People inside Al-Shifa have lost contact with other buildings in the complex, jeopardizing the efforts of humanitarian workers and Palestinian officials to receive updated information about the dire conditions facing terrorized patients and medical staff.
Omar Zaqout, supervisor of the emergency department, said people sought shelter inside the buildings and stayed away from windows and doors.
"We don't know what's going on outside, all we hear are explosions, gunshots, the screams of elderly people and the screams of children," added Zaqout.
He said that Israeli soldiers were present in buildings surrounding the emergency room and that he had previously witnessed people being handcuffed, stripped of their clothes and blindfolded. CNN is not on the scene and cannot independently verify its account. CNN has also reached out to the IDF for comment on these allegations, but has yet to hear back.
Zaqout, the director general of hospitals in Gaza, claimed that the IDF interrogated medical teams, patients and their companions.
"Some of the escorts were forced to take off their clothes," said Zaqout, who is not at the hospital but spoke to doctors inside.
IDF spokesman Rear Admiral Daniel Hagari claimed that Israeli forces "include medical teams and Arabic speakers who have undergone specified training to prepare for this complex and sensitive environment with the intention that no harm is caused to civilians." CNN cannot confirm Hagari's claims.
For his part, Zaqout insisted that all people inside the hospital are civilians. "The situation is dire at the moment."
Earlier this week, doctors and journalists described desperate efforts to keep premature babies alive and limited procedures taking place by candlelight as food, milk and water run out.
Hospital director Mohammad Abu Salmiya told Al Jazeera that there are plans to bury more than 150 bodies, but he was concerned that the grave would not be big enough. Al-Za'anoun, the Wafa reporter told CNN, "the smell of dead people is unbearable, most of the bodies are of women and children."
In recent days, 15 patients have died in Al-Shifa, among them six newborns, due to power cuts and a lack of medical supplies, said the Palestinian Ministry of Health in Ramallah, which takes its figures from the Hamas-controlled area.
Egyptian Health Minister Khaled Abdel Ghaffar said on Tuesday that they are working to bring 36 newborns from Al-Shifa to Egypt, although such a transfer would be dangerous.
The World Health Organization has recorded at least 137 attacks on health facilities in Gaza, which it said resulted in 521 deaths and 686 injuries.
Other protected sites, such as schools, civilian shelters and UN facilities have already been damaged or destroyed in over a month of Israeli airstrikes. On Monday, the United Nations Relief and Works Agency for Palestine Refugees (UNRWA) announced that over 100 UN staff had been killed in Gaza since the fighting began – the most in UN history.
This is a developing story and is being updated.