News
Palestinian officials say the death toll is rising as a result of the expanded Israeli military operation
JERUSALEM (AP) – Israeli Prime Minister Benjamin Netanyahu told the nation Saturday night that the military has opened a "second phase" in the war against Hamas by sending ground forces into Gaza and expanding strikes from the ground, air and sea. He said it will only increase ahead of a broad land invasion of the territory.
"It's going to be long and hard," he said. "We are ready."
The bombardment, described by Gaza residents as the most intense of the war, knocked out most communications in Gaza. This largely cuts off the besieged enclave's 2.3 million people from the world, while enabling the Israeli military to control the narrative in the new phase of fighting.
The military released grainy images on Saturday showing columns of tanks moving slowly in open areas of Gaza, many apparently near the border, and said warplanes bombed dozens of Hamas tunnels and underground bunkers. The underground sites are a key target in Israel's campaign to crush the territory's ruling group after its own bloody whim into Israel three weeks ago.
The escalation brought more internal pressure on Israel's government to release dozens of hostages seized in the Oct. 7 Hamas attack amid concerns they were being held underground.
Desperate family members met with Netanyahu on Saturday and expressed support for an exchange of Palestinian prisoners held in Israel, a swap flown by a Hamas spokesman.
Netanyahu told the nationally televised news conference that Israel is determined to bring back all the hostages, maintaining that the expanding ground operation "will help us in this mission." He said he could not reveal everything being done because of the sensitivity and secrecy of the effort.
"This is the second phase of the war whose goals are clear: to destroy Hamas' military and state capabilities and bring the hostages home," he said.
Early in the war, Israel massed hundreds of thousands of troops along the border. Until now, troops had conducted brief nighttime incursions on the ground before returning to Israel.
The Palestinian death toll in Gaza rose on Saturday to just over 7,700 people in the three weeks since the war began, with 377 deaths reported since late Friday. according to Gaza's Ministry of Health. A majority of those killed have been women and minors, the ministry says.
Ministry spokesman Ashraf al-Qidra told reporters that the disruption of communications has "totally paralyzed" the health network. Residents had no way to call for ambulances, and emergency teams chased the sound of artillery barrages and airstrikes to search for people in need.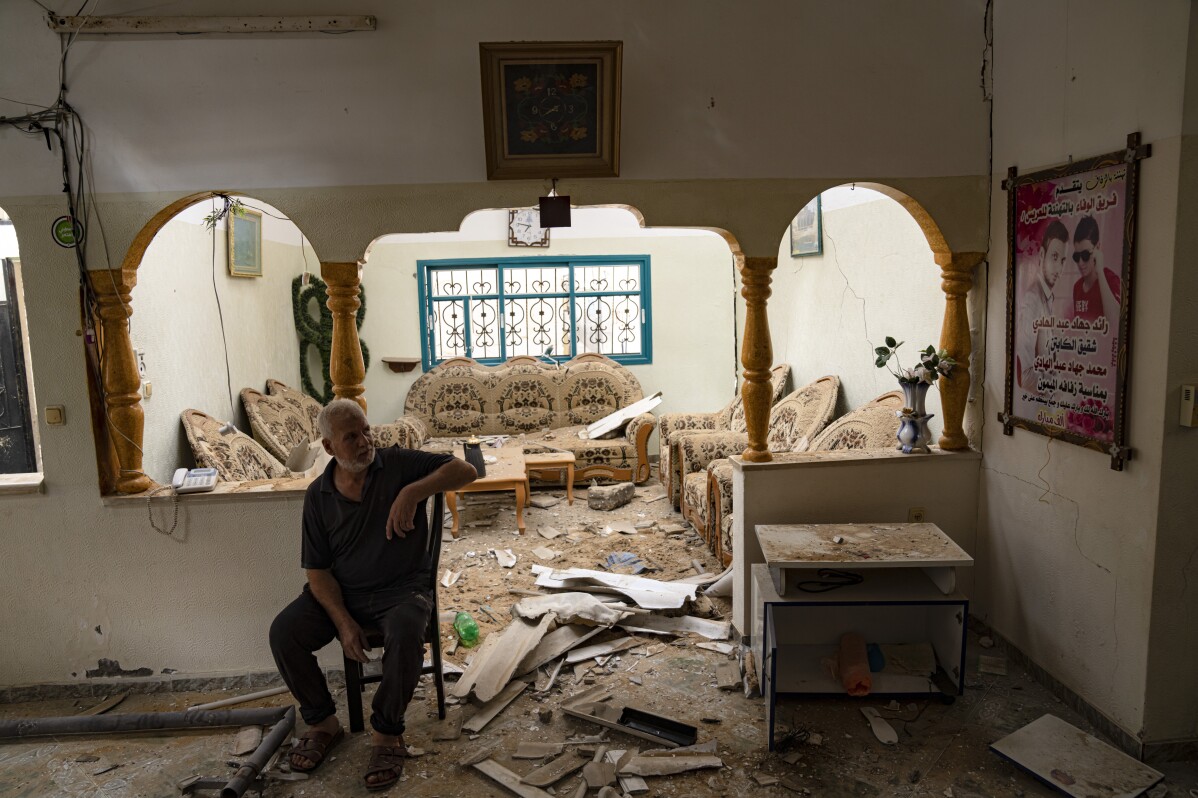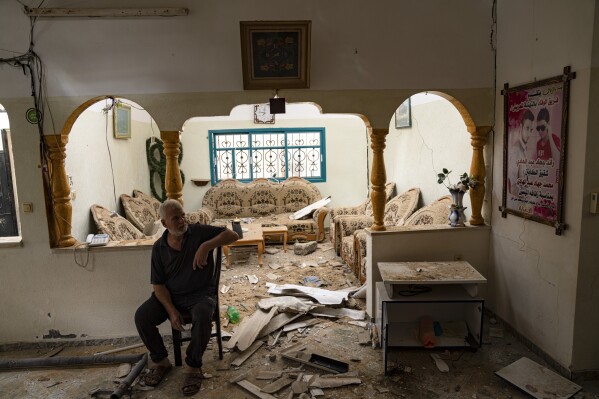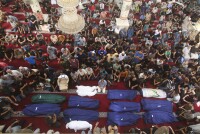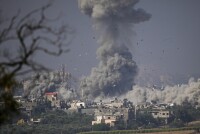 An estimated 1,700 people are still trapped under the rubble, according to the health ministry, which has said it is basing its estimates on emergency calls it received.
Some civilians used their bare hands to pull wounded people from the rubble and load them into personal cars or donkey carts to take them to the hospital. In a video broadcast by local news media, Palestinians sprinted down a ravaged street with an injured man covered in the dust from a building collapse as he shivered with his eyes closed on a stretcher. "Ambulance! Ambulance!" the men yelled as they pushed the stretcher into the back of a pickup and yelled at the driver, "Go! Go!"
Some Gazans traveled on foot or by car to check on relatives and friends. "The bombs were everywhere, the building was shaking," said Hind al-Khudary, a journalist in central Gaza and one of the few people with cellphone service. "We cannot reach anyone or contact anyone. I don't know where my family is."
Israel says its strikes target Hamas fighters and infrastructure, and that the militants operate among civilians, putting them at risk.
The World Health Organization appealed to the "humanity of all those who have the power to do so to end the fighting now" in Gaza. "There are more injured every hour. But ambulances cannot reach them in the communication gap. The morgues are full. More than half of the dead are women and children," it said in a statement, expressing "serious concerns" over reported shelling near hospitals in the northern half of Gaza.
The Palestinians say that this war is robbing them not only of their loved ones, but also the funeral rites that has long offered mourners some dignity and closure in the midst of unbearable grief. Overcrowded cemeteries have forced families to dig up long-buried bodies and deepen the holes.
Across Gaza, terrified civilians huddled in homes and shelters with food and water supplies running low. Electricity was knocked out of Israel in the early stages of the war.
More than 1.4 million people have fled their homes, nearly half of them crowding UN schools and shelters, after repeated warnings from the Israeli military that they would be in grave danger if they stayed in northern Gaza.
The military renewed such warnings on Saturday, in leaflets dropped over Gaza. A large number of residents have not been evacuated to the south, partly because Israel has also bombed targets in so-called safe zones, where the conditions are increasingly serious.
Aid workers say the flow of aid Israel has allowed in from Egypt in the past week is a tiny fraction of what is needed. Gaza's hospitals have been scrambling for fuel to run emergency generators that power incubators and other life-saving equipment.
The United Nations agency for Palestine refugees, which runs an extensive network of shelters and schools for nearly half of displaced Gaza residents, has lost contact with most of its staff, spokeswoman Juliette Touma said Saturday. She said it was now "extremely challenging to coordinate aid efforts."
The intensified air and ground campaign raised new concerns about dozens of hostages being dragged into Gaza. On Saturday, hundreds of relatives of hostages gathered in central Tel Aviv, demanding that the government put the return of their loved ones ahead of Israel's military goals.
In comments likely to inflame those tensions, the spokesman for Hamas' military wing on Saturday offered a massive hostage swap for the thousands of Palestinian prisoners held by Israel.
The spokesman, who used the nom de guerre Abu Obeida, said in a televised speech that the price for freeing the hostages, Israel said to number 229, is "to empty the Zionist prisons of all prisoners."
Netanyahu told relatives of the hostages that "we will exercise and exhaust every option to bring them home," his office said in a statement. He did not specify a military or diplomatic plan.
Military officials have said they are trying to both topple Hamas and bring back the hostages, but have not explained how they could achieve both goals at the same time.
The Israeli army spokesman, Rear Adm. Daniel Hagari, said four hostages have been released in recent days through mediation by Qatar and Egypt. Hagari dismissed news reports of a possible ceasefire deal in exchange for the release of hostages, saying Hamas was engaging in a "cynical exploitation" of relatives' concerns.
In Cairo, Egyptian President Abdel Fattah el-Sissi said his government is working to de-escalate the conflict through its talks with warring parties to release prisoners and hostages. On Saturday, he spoke with UN Secretary-General Antonio Guterres about those efforts, his office said.
Guterres repeated his appeal for an immediate humanitarian ceasefire in Gaza, along with the unconditional release of hostages and the "necessary massive scale-up" of humanitarian aid to the Strip's 2.3 million people.
Guterres said he was "surprised by an unprecedented escalation of the bombings and their devastating effects" and "the situation must be reversed."
Impatience grew among many. Turkish President Recep Tayyip Erdogan told hundreds of thousands of people at a pro-Palestinian rally in Istanbul on Saturday that his country was preparing to declare Israel a "war criminal" for its actions in Gaza. He did not elaborate, and his office said it could not comment on the statement.
Erdogan's government recently restored full diplomatic relations with Israel, whose foreign minister said on Saturday he had ordered the return of Israel's diplomatic mission from Turkey to reassess relations.
Elsewhere, tens of thousands of pro-Palestinian protesters turned out in London for the second weekend in a row to demand a ceasefire in Gaza.
More than 1,400 people were killed in Israel during Hamas attacks on October 7, according to the Israeli government. Among those killed were at least 311 soldiers, according to the military.
Palestinian militants have fired thousands of rockets at Israel over the past three weeks.
The total number of deaths in Gaza and Israel far exceeds the combined total of all four previous Israel-Hamas wars, estimated at about 4,000.
Israel has said so aims to crush Hamas' rule in Gaza and its ability to threaten Israel. But how Hamas' defeat will be measured and the endgame of an invasion remains unclear. Israel says it does not intend to rule the small area, but has not said who it expects will – even as Gallant suggested a long-term insurgency could follow.
The conflict has threatened to ignite a wider war across the region. Arab nations – including US allies and those that have concluded peace agreements or normalized ties with Israel – have raised increasing alarm over a potential ground invasion.
___
Magdy reported from Cairo. Associated Press writer Samya Kullab in Baghdad contributed to this report.
___
Full AP coverage: https://apnews.com/hub/israel-hamas-war.