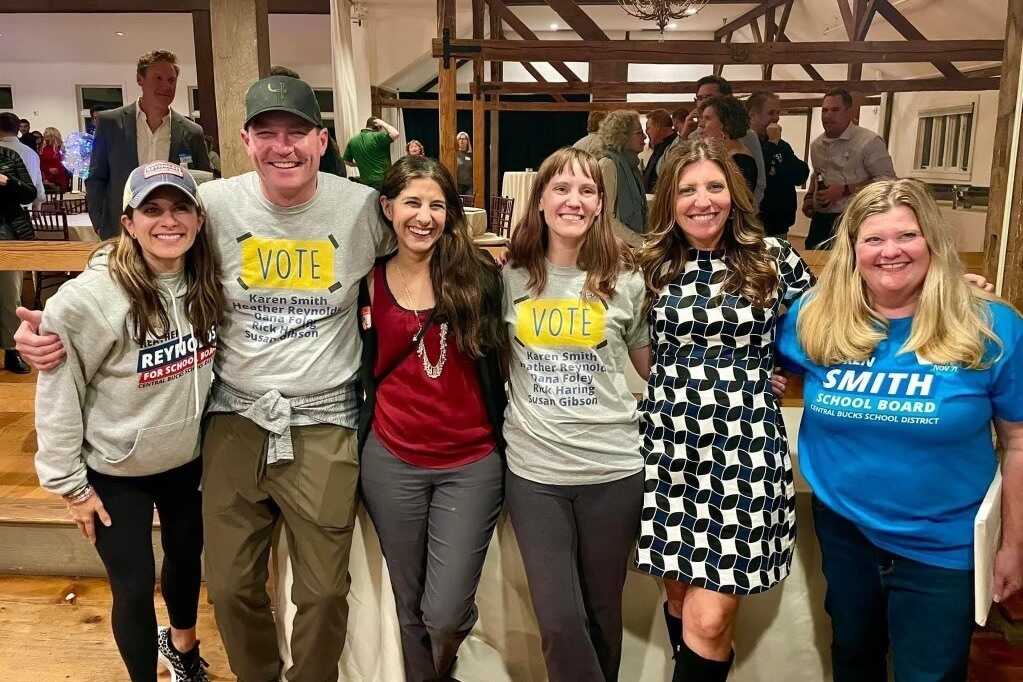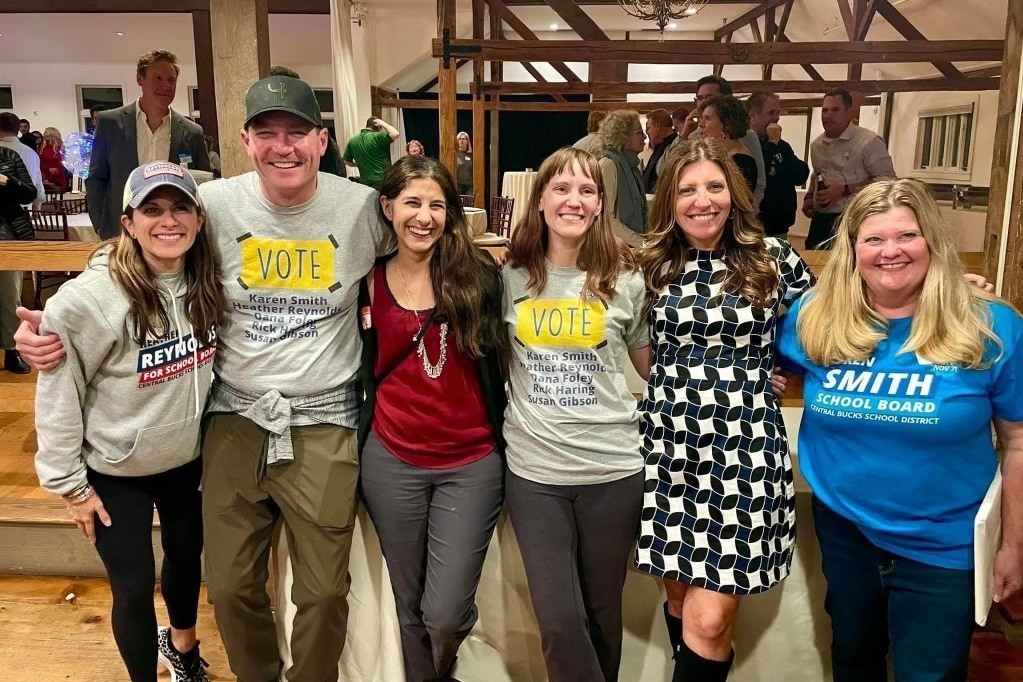 Courtesy of Diana Leygerman
Meghan Budden's family considered moving if their Pennsylvania school district didn't change course. She is not normally politically active, she said, but felt compelled to volunteer when a number of Democrats launched bids to take back their school board in the Central Bucks School District, just north of Philadelphia.
Central Bucks is well known both statewide and nationally for heated board meetings over masks and Pride flags, policies banning certain books and directives not to use students' preferred names and pronouns. Allegations of discrimination against LGBTQ students have also led to an ongoing investigation by the US Department of Education.
"I couldn't have my kids in a school district where this kind of thing was going on," Budden said.
Standing at Democratic headquarters in Bucks County on election night, Budden sobbed as the results poured in — Democrats took all five seats up for grabs.
The room erupted in cheers; friends, neighbors and strangers hugged.
"It was very moving and a very happy feeling from everyone," Budden recalled. "And a sense of relief."
If there were any questions about whether the conservative-led school board's policies reflected the will of the local community, Tuesday's election may have provided an answer.
Three of the newly elected Democratic school board members will replace Republicans, including the board president, who helped set a right-wing agenda that aligned with national conservative movements around education. Voters effectively flipped the board from majority Republican to majority Democrat.
Republicans also lost majority control of school boards in Iowa, Virginia and a historically conservative district near Central Bucks.
A surprising victory for Democrats in a politically mixed district
Central Bucks School District is the third largest in Pennsylvania with more than 17,000 students. It's also in a politically mixed, swing county.
"I wasn't meant to win," said Democratic candidate Heather Reynolds, who beat the board's current president and sole Republican representative in the race.
Reynolds' newly won seat represents a part of the district that is redder than others, she said.
"I think the community has had enough. They've seen what this previous board majority has done and they said, 'No more. We deserve better as a district, as a community. That's not who we are.' ."
Reynolds said residents and parents were exhausted by the chaos that had become a normal part of the monthly school board meetings.
Fiscal responsibility was also high on their list of concerns, she said: In July, the board increased Superintendent Abe Lucabaugh's salary by nearly 40%, making him the second-highest paid superintendent in the state after Philadelphia. Lucabaugh had stood by the board's controversial policy even as the district spent at least $1 million on a law firm following allegations of discrimination and more than $140,000 on a public relations firm that handled media inquiries, among other things.
NPR reached out to Central Bucks Republican board candidates for comment; some declined to be interviewed and others did not respond. Only one candidate was willing to run for office, Glenn Schloeffel. He said the results were disappointing.
"We put a lot of work into trying to get a successful result and it didn't go our way."
Schloeffel believes the board's majority was "thrown under the bus" following the allegations of discrimination. And he does not think it is fair to characterize their decisions about books as a "book ban". He said the books the current board removed from the libraries "were very graphic and sexual in nature. Absolutely disgusting … There is no place for that in our schools."
Republican candidate Steve Mass told the Delaware Valley Journal, "The only winners in Tuesday's election are the private schools that will see their enrollment skyrocket in the next few years as parents see what policies are coming into our district."
The Republicans had one major donor, the Democrats received several individual donations
Across the country, school board campaign funding appears to be on the rise. In 2018, a survey by the National School Boards Association reported that 75% of elected officials spent less than $1,000 on their campaigns.
But this election cycle, Central Bucks candidates raised about $600,000 combined, as of Thursday, according to campaign finance records.
Local venture capitalist Paul Martino financed the Republican campaigns and donated the majority of their funding – $239,000 of the $279,000-plus total. Martino — whose wife, Aarati Martino, ran for the board as a Republican this year — spent a total of $500,000 on school board races across Pennsylvania in 2021.
He also contributed $40,000 to the Stop Bucks Extremism PAC. During the campaign, PAC sent literature to district homes with excerpts from the often targeted books Gender Queer and This book is gay. The mailer included the message: "Extreme Central Bucks Democrats are fighting to keep these books in our middle school and high school libraries. Request an early vote to protect our children!"
In total, Democrats raised over $315,000. The Democrats' PAC, Neighbors United, raised over $174,000. Its largest donations came from Turn Bucks Blue, a local PAC that supports Democrats throughout the county, and the Pennsylvania State Education Association. Much of the Democrats' funding came from smaller individual donations, between $50 and $250. Each candidate also had their own PAC.
"We knew what [Martino] spent the last time, so we had to be prepared to respond to that," said Karen Smith, a Democrat who won her race as an incumbent.
Martino declined NPR's requests for comment.
Two independent parents were tired of the chaos
District parent Elizabeth Derham identifies as an independent and has been disappointed with board leadership over the past two years. Derham's husband, Jeff, is also self-employed and would sometimes split his ticket. But this year was the first time he voted blue down, along with Elizabeth.
"Nobody I talk to is in favor of any of this or cares much about some of the things that they put so much effort into," Elizabeth said of the board's conservative members.
The Derhams said their votes felt like a small attempt to save their local democracy — and their public school district.
"We just want the government to work… we're just sick of it," Elizabeth said. "I just want people to listen to us."
Now that the election is over, she hopes Central Bucks school board meetings will be boring again.
Edited by: Nicole Cohen
Research by: Zazil Davis-Vazquez and Greta Pittenger
Emily Rizzo is a freelance journalist who previously covered the Philadelphia suburbs for member station WHYY.